Bailey & Mackey Ltd BIRMINGHAM, United Kingdom

Bailey & Mackey have been manufacturing high quality pressure instruments for over 75 years. The product range has been extended over this period and we now manufacture Pressure Gauges, Temperature Gauges,Pressure Switches and Pressure Transducers.

unselect all/select all
You have 0 products selected
Pressure Gauges
Send enquiry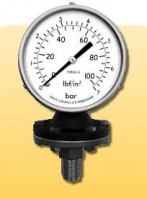 Dials calibrated in other pressure units - such as kN/m2, MN/m2, kPa, Kg/cm2,
cm water, meters of water, cm Hg, inches Hg etc., single scale, dual scale or with square root markings - can be supplied if required.